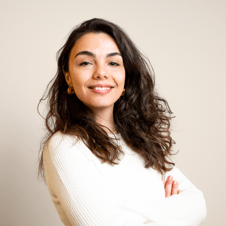 Margarita Iovi
Senior Brand & Campaign Manager – Business Operations
At Voi, our Brand & Creative team is all about crafting what makes us unique – our brand. We're the ones behind the scenes making sure that Voi stands out, always looks amazing and resonates with our community.
Here's what we do:
Brand Owners: We act as brand ambassadors. We make sure our brand is strong, memorable, and aligned with our company's purpose and values.
Creative Brains: Through compelling visuals, engaging content and innovative design, we bring our brand to life in various materials and across different touchpoints.
Campaign Dreamers: Ever seen a Voi campaign that caught your eye? That's us! We create cool campaigns that spread our message across 100+ cities where Voi operates.
Joining our team, you'll have the freedom to explore your creativity and contribute to the evolution of our brand. We work fast, love creative challenges and cheer each other on.
If you're passionate about building brands with purpose, we want you on our team. Come be a part of our voyage!