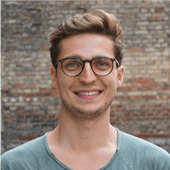 Christopher Kaindl
Head of Warehouse Operations – Business Operations
The Central Operations team steers and supports the heart of our business, the operations in markets. We act as the center of excellence that supports and enables market teams to achieve their targets by problem-solving and providing solutions via a combination of process, product and data.
Our goal is to achieve operational excellence in our 50+ warehouses across Europe while ensuring that our operations are run in a cost effective manner. To achieve this we identify and prioritise global pain points and impact opportunities and collaborate with markets to develop and implement tools that empower them to steer their operations towards profitability. 
We offer you to join a team that is passionate about making a difference to how we run our operations and improve urban mobility. If you are looking to join a team with a strong purpose where you can directly experience the impact of your work and want to problem-solve applying your various skills, then we could be the perfect fit for you!